Birmingham Catholic primary school sends letters after abuse charge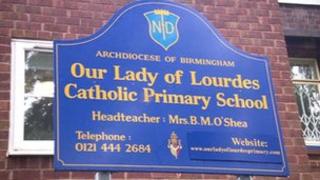 A school in Birmingham has sent letters to reassure parents about children's safety after a teacher was charged with sexual offences.
Joseph O'Malley, who works at Our Lady of Lourdes Catholic Primary School in Billesley, has been charged with 12 counts of sexual touching on boys under the age of 13.
He is due to appear before Birmingham Magistrates' Court on 22 July.
The letter says the "safety of our children is the highest priority".
It says: "We can therefore assure you that with the support of the police, the Diocese and Birmingham City Council, the school's staff and governors have ensured that we complied with all the relevant safeguarding procedures."
'Distressed and concerned'
The school said that Mr O'Malley, who lives in Hall Green, had been suspended from his job pending the police investigation. He is on bail until his court appearance, police said.
Selly Oak MP Steve McCabe praised the school's actions.
He said: "Parents are distressed and concerned and they have a right to have someone put their fears to rest.
"I'm fairly confident, from what I have been told, they don't have to be alarmed but they do want to hear that for themselves."