Birmingham Central Library: Saying goodbye after 40 years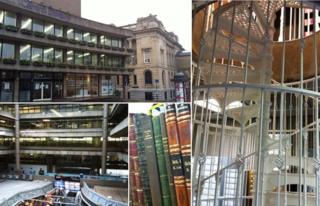 The Prince of Wales once referred to Birmingham's Central Library as looking like "a place where books are incinerated, not kept".
Designed by local architect, John Madin, the current library has divided opinion since it opened in 1973.
Alan Clawley, who campaigned to save it from demolition, said some people thought it was a "concrete blot on the landscape", while others regarded it as an "important example of brutalist architecture".
And it is not difficult to see why.
Visitors are confronted by concrete blocks, not just outside the building but throughout its interior.
Time has also taken its toll on the Central Library. The many escalators leading up its eight floors are slow and prone to breaking down; carpets are threadbare in places.
Spaces which were designed to inspire the city's greatest creative minds have low ceilings with little natural daylight.
But the library also has its own secret gems, including a Victorian spiral staircase, which leads up to its original archives - and those archives themselves.
Now, after 40 years, the building in Chamberlain Square will permanently close at the end of the working day on 29 June, ahead of the new £190m Library of Birmingham opening in Centenary Square on 3 September.
But many people will be sad to see it go, one of them being librarian Fay Davis, who has worked at the Central Library for nearly 25 years.
The 52-year-old, from Sutton Coldfield, said: "As we've come closer and closer to moving, I will actually miss this space."
She is well placed to assess the changes over the decades at the old library, as she looks forward to the "incredible" new one. She helped develop the brief for the architects.
From meeting royalty to one of the world's most famous children's authors, she has fond memories of the city centre building.
'Nervous' J K Rowling
She said: "For me the things that stood out were meeting all of the children's authors.
"We had a very young J K Rowling when she'd first written the Harry Potter book. [She] hadn't done an awful lot of work out in schools or libraries, and was very nervous when she came to us.
"We were obviously delighted to have her here so she did some sessions... reading from her books and answering all sorts of questions about how she started writing."
She also said staff were "absolutely bowled over" by a visit from the Duchess of Cornwall in 2009, saying she was "incredibly natural" with the children.
Mrs Davis was drawn into a career in libraries from an early age; as a child, her family went to the library together. She started working in smaller community libraries after graduating in 1982.
Mrs Davis recalled the "groundbreaking" use of CD-ROMs to give children information, after she moved to the Central Library in 1989.
"If you ask any librarian, the reason they came into librarianship was because they love to serve people.
"I think when I first came into the profession, as librarians, we were seen as guardians of this wonderful knowledge and you were the gatekeeper and if someone... asked you for the information they wanted and you very graciously went and found it.
"The way in which people access information, with the advent of the internet... means customers that come to us have very high expectations of our knowledge."
Library officials hope to double the number of visitors to about 8,000 a day at the new library, which will have 10 floors compared to the old building's eight.
Shakespeare's First Folio
She said one of the key features of the new library was its "wonderful gallery space" to showcase collections, either the original artefacts or copies, including photographs, which had previously been hidden away.
Mrs Davis said: "Our collections range from the 12th Century through to contemporary collections, but what we haven't had the opportunity to do is actually showcase those beautiful things, like Shakespeare's First Folio or illustrated atlases."
When Mrs Davis joined in the late 1980s, only a special ticket opened a barrier to the reference library used by students and researchers.
But lending and reference sections have been brought closer together and the new library will have group spaces for various numbers as well as individual study units.
"People think libraries are quiet places and librarians go around shushing people - that would be a nightmare of a library scenario," Mrs Davis added.
"The quieter spaces... are reserved for those people who want to study quietly."
She said it was going to be "absolutely fantastic" to work in the new environment.
"Having seen it from a hole in the ground to now seeing it built and starting to be populated with books, I can't wait to see how it's going to be used by our customers."