Birmingham mosque stab PC 'will never fully recover'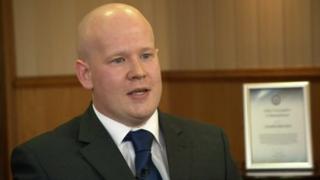 A police officer stabbed at a mosque in Birmingham says his condition will never be as good as it was before.
Four people, including PC Adam Koch, were injured by a man at Washwood Heath Road in Ward End on Saturday night.
A 30-year-old was arrested on suspicion of attempted murder and taken to a secure mental health unit.
Mr Koch spoke at a police awards ceremony where he was honoured for helping to rescue a critically ill child from a gas-filled flat.
Speaking to the media at the Tally Ho! learning and development resource centre in Pershore Road on Thursday evening, he said without police colleagues and worshippers in the mosque he "would not be here today".
Mr Koch suffered multiple knife wounds, had surgery on Sunday for wounds to his stomach and side and has said he owes a "massive debt of thanks" to worshippers who helped him tackle the man.
'Focus on getting healthy'
He said: "I've been told by my surgeon that it's going to be six to eight weeks before I'm sort of physically fit to do anything.
"I've been told that I'm never really going to fully be back to where I was prior to my injury.
"At the moment I just want to focus on getting my body healthy.
"I think the emotional side is going to hit me at some point and I think it's going to be a while before I feel confident to get back to frontline duties."
Mr Koch, from Yardley Wood, and his police partner Jean Stevens arrived on the scene four minutes after police received reports of a man attacking mosque members at about 23:00 BST on Saturday.
It is understood he was not known to the prayer centre but turned up to join the congregation for evening prayers, police have said.
One man suffered multiple stab wounds, another man sustained a single stab wound to his leg and a further victim injured his hand.