Birmingham A38 tunnel closure: Information event for motorists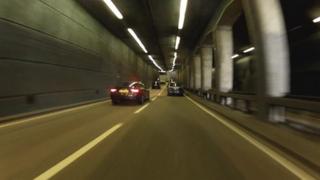 Drivers needing advice on alternative routes through Birmingham while two city centre tunnels are shut have been attending a road show.
The A38 St Chads and Queensway tunnels will shut for repairs and new lighting from 19 July to 2 September.
A public information event was held in Victoria Square in the city.
Commuters have been warned that the tunnels, which are 40 years old, will also be closed again next summer for further repair work.
'One of busiest routes'
Representatives from the council and road contractor Amey, National Express and Centro have been offering advice.
Leaflets were distributed in the city centre giving information on walking and cycling routes, along with public transport options such as the Midland Metro, buses and trains.
Eddie Fellows, highways network manager at Amey, said: "This is a major project on one of the busiest routes in the city and we are very aware of the impact that will have, which is why we're out early talking to everyone."
The contractor said traffic flows were 30% lighter during the summer holidays, so it was the "optimum" time to do the repairs.
Councillor Tahir Ali said: "This project is about improving a vital part of our road network and bringing longer term benefits to both the city and the businesses based here.
"We are actively encouraging people to look at alternative methods of getting into the city during the summer closures and this event is a one-stop-shop to give advice on how to do that."
The council and Amey have also set up a website giving details of the tunnel closures.