Revamped Edgbaston Priory Club hosts Aegon Classic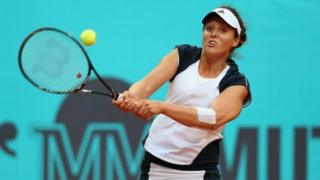 Tennis players from across the world are in Birmingham for the annual grass court championships.
Earlier this year the Edgbaston Priory Club, which hosts the Aegon Classic tournament, was upgraded to a World Tennis Association (WTA) Premier 600 event - meaning from 2014 it can offer more prize money and more ranking points to the players.
Rising British tennis stars Laura Robson and Heather Watson are among this year's contenders. But next year, tournament bosses are hopeful of attracting top 10 players such as Serena Williams and Victoria Azarenka.
Not bad for a tournament which, in 2009, feared it would have to close.
Chief executive Rob Bray said the Lawn Tennis Association (LTA) wanted to keep the tournament in Birmingham and the £12m revamp the venue has since undergone is a result of discussions between the two parties.
The LTA paid £5m towards the costs and the tournament has continued to be held in Edgbaston while the development got under way.
"The requirements of tournaments have increased with players needing their own restaurants, changing facilities and press facilities - and world class courts - and we did not have that," he said.
"But the LTA wanted to keep it here... so we hatched a plan."
Proud and positive
The annual pre-Wimbledon grass tournament celebrated its 30th anniversary last year and the redevelopment has ushered in a new era at the club, which now boasts a high performance centre, a sunken centre court and four championship grass courts.
To mark the court's official opening, an exhibition match featuring Tim Henman and Greg Rusedski, plus others, is being held.
The court has been named after Kings Heath-born Ann Jones, the 1969 Wimbledon champion.
Mr Bray said he was very proud of the current state of British women's tennis.
"It's a new era here. I'm very proud," he said.
"It's been five years in the planning and two years to build and now we are here.
"We will get six or seven of the top 10 players here from next year and from a British point of view, it's exciting times for the women's game - with two in the top 40."
There is still some attention to be paid to the club's development, but on a smaller scale. Nurturing the players of tomorrow is high on the agenda.
"We still have things we want to do here - like a number one court - but things are on a lesser scale now," said Mr Bray.
"Hopefully we will get the Williams sisters and Azarenka here, we've got the county's best coaches and it's key to mentor them.
"We're set for a good decade now."
Sporting hub
With the Edgbaston cricket ground less than half-a-mile away, the area has become "a real hub" for sport, he said.
Although it is not hosting any of the Ashes games this year, England are playing Australia in the ICC tournament.
Five games are taking place over the next fortnight with thousands of visitors expected in the city.
Birmingham is also part of the athletics Diamond League and hosts Grand Prix events boasting world class competitors.
In 2011, Aegon Classic event organisers said the tournament was worth "as much as £9.3m a year" to the local economy.
"Birmingham is now playing a leading role in cities outside London attracting top sporting events," Mr Bray said.
"Manchester gave us a run for our money for a while and they did very well at it but then they stopped investing.
"But I feel it's up to individual organisations to go to the council to get events here, it's not up to them to lead.
"We had support from the council, they have a good vision for sport in the city.
"Edgbaston has become a great hub now."
Emma Gray, director of marketing services at Marketing Birmingham, said the calibre of sporting events held in the city would provide a boost to the visitor economy.
"The busy month ahead will also help to raise the city's international profile - the ICC Champions Trophy alone is set to attract a one billion television audience," she said.
BBC WM will have coverage of the event, which runs until 16 June, on 95.6FM and on DAB digital radio.