Walsall Healthcare NHS Trust plans to cut 300 jobs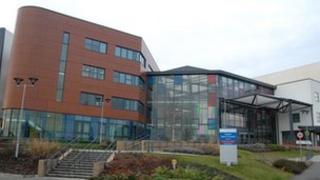 About 300 healthcare jobs will be lost in Walsall over the next five years, a trust has said.
Walsall Healthcare NHS Trust, which runs the town's Manor Hospital, said it was making cuts because of a £10m reduction in government funding.
The trust said it would achieve the majority of job cuts by natural wastage and removing vacant posts.
Public services union, Unison, said it was in talks with managers at the trust to protect as many jobs as possible.
Figures published in the trust's Workforce Strategy said the equivalent of 293 full-time posts were expected to be lost by 2017/18.
The trust employs 3,488 full time staff.
'More efficient'
About 120 posts would be lost this year, but about 100 would be created including jobs for nurses and healthcare assistants.
Tracy Wood from Unison said: "[This] will of course affect vital services provided to the residents of Walsall and staff employment at the hospital.
"Industrial relations at Walsall NHS hospital work extremely well and we will work with management to preserve as many jobs in the future as possible."
A Department of Health spokesperson said the NHS must be "more efficient" to meet the pressures of an ageing population and the rising costs of drugs and treatments.
"Hospitals should be looking at ways to be more efficient, but that doesn't mean lowering the quality of care, it means getting the best services to meet patients' needs and the best value for every pound the NHS spends," the spokesperson added.