Gurkiren Loyal's family 'encouraged' over India organs plea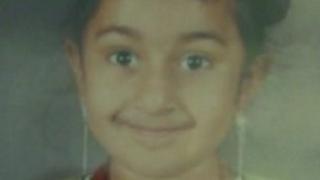 The family of a British girl whose organs were retained in India after she died there say they feel "very encouraged" after a meeting with a Foreign Office minister.
Gurkiren Loyal, from Birmingham, fell ill on holiday in April and died suddenly following an injection after being diagnosed with mild dehydration.
Her body was repatriated but without some internal organs.
Hugo Swire MP told the family he would update them again within two weeks.
Gurkiren's body was flown back to Birmingham but without her internal organs, meaning UK pathologists have been unable to carry out their own post-mortem tests.
Birmingham Coroner's Office has already requested their return.
Gurkiren's mother Amrit Kaur Loyal, from Hockley, has been campaigning ever since to have the organs returned.
She said she was "very encouraged" by the meeting with the minister and by the action taking place in India.
She added she had been assured by the British Embassy in India that it would do all it could to help with the matter.
The family's campaign has also been backed by Ladywood MP Shabana Mahmood, who helped arrange Thursday's meeting.
The Indian authorities confirmed last month the child's organs had been retained at the Government Medical College at Rajindra Hospital in Patiala for post-mortem tests.
So far, two months after Gurkiren's death, the family say they have not been given any idea about what caused her death.