West Midlands police and crime commissioner Bob Jones: Scrap my job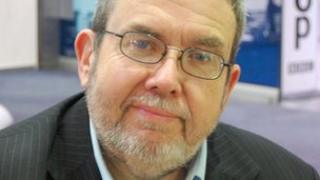 The West Midlands police commissioner has said his own role should be scrapped in favour of something more efficient and less party political.
Bob Jones said he would take redundancy if a more suitable alternative to his post was found.
He said residents would relate better to panels governing each borough than one person for the whole West Midlands.
The Home Office said voters would decide if commissioners were making "the best use of public money".
"The introduction of police and crime commissioners has brought democracy into policing for the first time, giving local people real influence over crime and policing priorities in their area," a spokesperson said.
The government introduced the elected commissioners last year, saying they would make policing more accountable to the public.
'Declare myself redundant'
Across the West Midlands force area, the turnout in November's elections was 12%. The turnout figure was lowest in Coventry at 10.18%.
Mr Jones, who was a Labour candidate the election, said the £100m spent on electing the police and crime commissioners across England would have been better spent "keeping police officers on our streets".
He added he thought the current set-up was causing "considerable problems, especially in the West Midlands", because the area was too big and too diverse to be overseen by one person.
He said, instead, a group of people should represent each area, such as Birmingham, Coventry and Wolverhampton, so they could look at local issues in depth and come together to discuss force-wide matters.
Mr Jones said: "I think work needs to be done about what the public needs and what gives them assurances that things will be properly scrutinised."
He added: "I would be quite happy to declare myself redundant - but with no redundancy pay."