Birmingham Mailbox £50m revamp revealed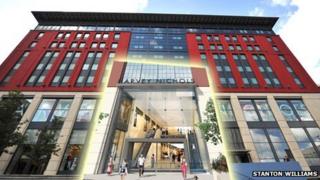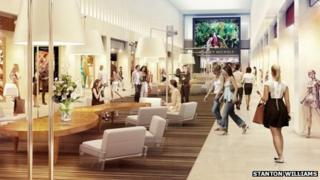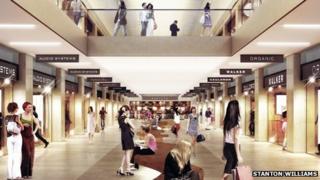 Plans for a £50m revamp of Birmingham's The Mailbox shopping centre - which include the addition of a roof - have been revealed.
Owners Brockton Capital said 500 jobs would be created when building work finished in 2015.
Harvey Nichols will double in size, moving from its present spot into a new 45,000 sq ft store in the former post room space in the building's centre.
Brockton Capital bought the shopping and office complex for £127.1m in 2011.
The Mailbox's owners said they were working with Milligan Retail on the project and both were financing it.
They are working with Birmingham City Council to create an "improved pedestrian-friendly area" around the underpass beneath Suffolk Street Queensway.
The revamp will also help improve access from Navigation Street and New Street station, which is undergoing a £598m revamp.
Brockton said putting a roof on the building would "dramatically change its environment and sense of space".
Harvey Nicholls current store is on one floor at the front of The Mailbox, above the Malmaison hotel. There are several smaller shops within the complex.
Companies with offices at The Mailbox include Network Rail and BBC Birmingham. There are also several bars and restaurants which overlook the canal at the back of the centre.
Simon Samuels from Brockton said the majority of shops and restaurants inside the complex would continue to trade throughout the building work.