Birmingham pub bombings: Peter Robinson backs inquiry calls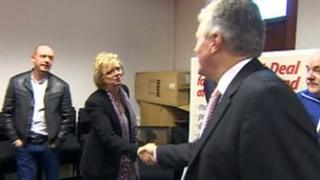 A bereaved sister's campaign to get the Birmingham pub bombings re-investigated has been backed by Northern Ireland's First Minister, Peter Robinson.
Two bombs exploded in the Tavern in the Town and The Mulberry Bush pubs in November 1974, killing 21 people.
Julie Hambleton wants a public inquiry to find out who caused the blasts that killed her 18-year-old sister Maxine.
After meeting Ms Hambleton at Stormont on Friday, Mr Robinson said a new investigation was "necessary".
He said: "These people need to see there is a real attempt being made to try and pin point who has been responsible for those dreadful bombings in Birmingham."
'Incredible boost'
Mr Robinson said he had asked Ms Hambleton to put together a dossier of documents about her campaign that he would pass to Prime Minister David Cameron.
"I believe if the prime minister looks at the arguments they're putting forward there's every reason why there should be an investigation," he said.
Mr Robinson also signed Ms Hambleton's petition calling for a public inquiry.
She said his support was an "incredible boost" for her campaign.
"We just want justice for families like us, justice that has not yet been seen to be done by the authorities," she said.
Paddy Hill, Gerry Hunter, Johnny Walker, Hugh Callaghan, Richard McIlkenny and Billy Power, known as the Birmingham Six, were jailed for life for the bombings in August 1975.
The Court of Appeal ruled in 1991 their convictions were unsafe because they were based on unreliable forensic evidence and "confessions" obtained using violence.
No-one else has since been charged over the bombings.