Andrew Mitchell's 'plebgate row' bike sold on eBay for £10,600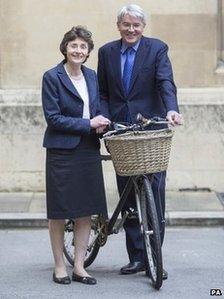 The bike at the centre of the "plebgate row", which cost a cabinet minister his job, has been sold for £10,600 on eBay.
Andrew Mitchell denied calling officers "plebs" when they refused to let him leave Downing Street on his bike via the main gate last September.
He resigned from his post as chief whip in October following a media backlash.
Mr Mitchell, who is the MP for Sutton Coldfield in the West Midlands, decided to sell the Reflex Westminster bike on the auction site for an Aids charity.
In the final week of the auction, bidding on the bike went from £400 to £10,600.
Mr Mitchell said all the money raised from the sale would go to Nyumbani UK, which supports people with HIV and Aids in Kenya.
He said: "The bidding went a lot better than I thought it would.
"I thought it might make about £500, which is more than the bike is worth, but I am pleased it has raised so much money."
He said he believed the successful bidder was from Sutton Coldfield but did not know their name.
"I've had a lot of support from my constituents through this and I hope the bike's new owner will enjoy riding it as much as I have," he said.
Metropolitan Police are investigating claims that police may have lied about the "plebgate" dispute, and four people have been arrested.
Related Internet Links
The BBC is not responsible for the content of external sites.