Ashes unclaimed for 60 years at funeral directors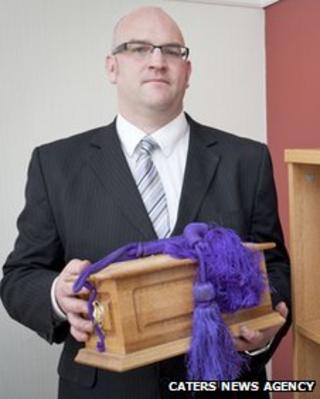 Ashes from a funeral 60 years ago remain unclaimed at a West Midlands funeral directors.
The uncollected urn is one of 150 to have been stored for five years or more at six branches of William H Painter across Birmingham and Solihull.
The firm has now launched an appeal to find the next of kin for the ashes.
Phil Painter, from the funeral directors, said any remaining unclaimed following the appeal will be scattered in a garden of remembrance.
Mr Painter said the National Association of Funeral Directors recommends its members store ashes for a minimum of five years.
Most of those left with the West Midlands firm have been there for more than 20 years, with the oldest dating back to 1953.
"We're keen to stress that this isn't about recently bereaved families or those who have asked us to keep ashes on their behalf for a specific reason, perhaps until they, too, die," Mr Painter said.
"This is about ashes that have been left unclaimed for a considerable amount of time.
"We believe it's only right that every individual is given the opportunity of a peaceful final resting place.
"So for those that have already been in our care for more than five years and remain unclaimed following this appeal, our team will hold a special service and scatter each set of ashes in a local garden of remembrance."