Birmingham Sikh Vaisakhi celebrations in Handsworth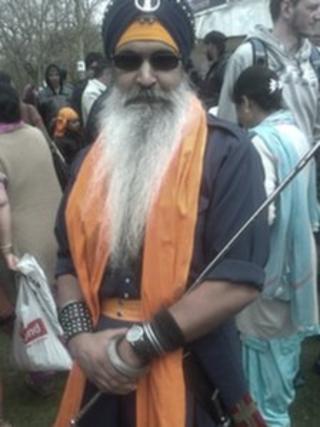 Thousands of people have joined celebrations at a Birmingham park to mark the Sikh festival of Vaisakhi.
Events at Handsworth Park included live music, Punjabi food and craft stalls.
There were two processions, from the Ramgarhia Sikh Temple in the Jewellery Quarter and from the Baba Sang Gurdwara in Sandwell, to the site.
Bystanders said thousands of people filled the roads as the processions made their way along.
Organisers the Council of Sikh Gurdwaras in Birmingham claim the festival is the largest open air celebration of Vaisakhi in Europe.
BBC reporter Ricky Dehaney said the atmosphere had been friendly and colourful.
"There was lots of drumming and the procession came down Grove Lane and people were teaming around it taking photos," he said.
"It's good to have a peaceful event with black, Asian and white people taking part.
"People were very happy. Everybody was in a good mood and being friendly to each other."