Wolverhampton roadside tributes given time limit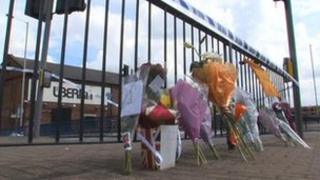 Roadside tributes to people who have died will be removed after 60 days under plans by a West Midlands council.
Wolverhampton City Council said it was concerned they were a distraction to drivers or a hazard to pedestrians when placed on pavements.
John Reynolds from the council said: "We recognise the importance of these memorials but we need to make sure they're managed in a sensitive manner."
Tributes to mark an anniversary will be removed after 30 days under the plans.
Under the proposals, the council will work with police family liaison officers.
Mr Reynolds said the council did not want to stop bereaved families leaving tributes but it needed new laws to control where and when they were left.
He said: "What we ideally want is the families to come and remove the memorials themselves so they can then keep the memorabilia that's been left."
Jade Elwell, the fiancee of 23-year-old Tom Kirwan, who was stabbed in Wolverhampton, said 30 days was not long enough.
His family and friends left Wolves football shirts and flowers at the roadside where he died near the Uberra Club on 8 July.
Ms Elwell said: "Tom's death is still raw for us now and I don't know ever when it will hit home, so the council do have to be careful how they tread around the whole memorial issue.
"I think it all depends on the families' choice and the council needs to work closely alongside them."
A tree was planted in memory of Mr Kirwan on parkland next to Little's Lane as a permanent memorial in March.