WBA star Cyrille Regis gets first look at statue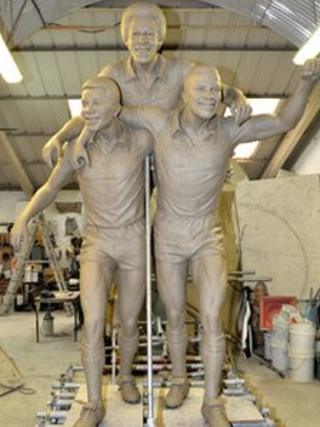 A full-size clay version of a statue of three pioneering black footballers has been unveiled.
The 10ft (3m) statue honours Laurie Cunningham, Brendon Batson and Cyrille Regis who played for West Bromwich Albion in the late 1970s.
The statue, called The Celebration, also aims to highlight the ongoing fight against racism in football.
Mr Regis said: "It feels a bit surreal but I'm very proud of what it represents."
The three players endured racist abuse from fans when starring for West Brom during the 1978-79 season, in which the club finished third.
'That's him'
Mr Regis said: "We were part of that first generation of black players in this country and I'm sure that if you ask any second generation player they will tell you they were inspired by Laurie.
"That's why the statue will be so important."
The £200,000 statue will eventually be cast in bronze and will be unveiled in West Bromwich on 15 July, 2014.
The date will mark the 25th anniversary of Laurie Cunningham's death in a car crash in Spain.
The Celebration is the work of sculptor Graham Ibbeson, who has also created statues of Eric Morecambe, William Webb-Ellis and Don Revie.
He said it had taken three months to make the clay model of the statue.
"Cyrille and Brendon came down and loved it - they took one look at Laurie and said: 'That's him', so I'm really pleased with the outcome of the work and the reaction it has received," he added.
The project is being led by Black Country businessman Jim Cadman and has the support of Sandwell Council.