Kings Heath remembers Ritz Ballroom following fire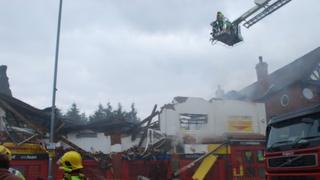 "The atmosphere was always good. It was huge inside. It was very comfortable."
Thomas O'Shea has lived in Kings Heath, Birmingham for 34 years and remembers seeing The Beatles at the Ritz Ballroom on York Road.
The former home of the ballroom, just off the High Street, has partially collapsed after a fire on Wednesday.
Mr O'Shea is just one of many people who have stopped by to see the remains of the building, now a Cash Converters store, as fire crews continue to work at the site.
'Aspire to visit'
He said: "I went to see The Beatles there… It was a fantastic crowd and everybody was enjoying themselves.
"[I am] devastated because I used to go into Cash Converters as well, and I know quite a few of the people who worked there."
Mary Truelove, who grew up in Kings Heath, also has strong memories of the ballroom being a place young people would "aspire" to visit.
She said: "People used to queue up here on a Saturday night to go into the dance hall, and it was the place to go in Kings Heath. There wasn't much else at that time in the 1960s.
"It was sad to see it stop being a dance hall. It's another piece of Kings Heath history that's literally gone up in smoke."
Ms Truelove was too young to visit the ballroom in the 1960s, but remembers walking past with her parents and thinking that she would "love to go in".
Another local resident, John Barford, also feels sad the ballroom no-longer exists but realises High Streets are constantly changing.
He said: "Places like this, when it was the Ritz, as young people you had a commonality of experience, of almost a rite of passage.
"When you became a teenager you went to a local dance, and this now has gone in our High Streets, and generally in society."
'Lost' original floor
Magdalene Breslin, who has lived in the Kings Heath area for about 30 years, said it was a "great tragedy" the building had gone, but was pleased a commemorative plaque had survived.
She said: "I think the plaque should be kept, whatever is done with the building, whether it's re-built or replaced."
Kate Smart, Kings Heath town centre manager, said she hoped the plaque could be salvaged, but it "depends on health and safety".
She said some parts of the building's history that survived through the changes of use might have been lost, including the dance floor.
"As I understand, until relatively recently, there was a lot of the original stuff from the Ritz still in there."
Ms Smart said she believed the wood from the dance floor had come from one of the royal yachts.
"Story goes that the High Street had to be closed to bring it in because there was so much of it," she said.
"I think we can probably safely say it's [the building] going to have to come down - I don't think there's much to salvage. I've just been looking online at some aerial images and it's a hole inside there."
Ms Smart said she wanted to continue to support the local businesses, both those that had temporarily closed and those that remained open.