Birmingham's Thames College of Professional Studies closure 'cost students'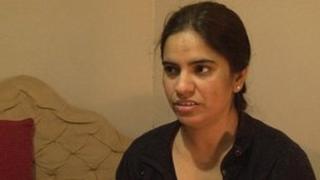 Overseas students at a Birmingham college have said they lost thousands of pounds after its licence was withdrawn by the government.
Thames College of Professional Studies in Digbeth, Birmingham, closed last year soon after the decision.
It is one of 500 institutions to have lost their licences after a review by the UK Border Agency, which said they failed to "fulfil their duties".
The college was unavailable for comment.
Harvinder Kaur, from the Punjab in India, said she lost £1,700 in fees paid to Thames College of Professional Studies via an agent in India.
A similar amount was due to be paid when her visa application was completed.
The 31-year-old had already lost £4,000 after another college in London saw its licence withdrawn.
Despite her experiences, she said she still hoped to study in the UK.
Other former students at the college also told a BBC WM documentary that they had lost thousands of pounds in fees, with some courses costing up to £5,000 a year.
Birmingham City Council said fees paid through overseas agents often made it difficult for bodies such as trading standards to take further steps.
'Abusing the system'
All students from outside the EU wishing to study in the UK need to have their visa application sponsored by education establishments which are licensed by the government.
To qualify for "highly-trusted" status, an institution has to demonstrate its teaching is of a sufficient quality, its students regularly attend classes, and that it complies with a range of other factors.
The Border Agency said the rules had been tightened after it found many colleges were abusing the system.
A spokesperson said: "The UK has one of the best education systems in the world and we want to attract the brightest and the best to study in the UK.
"But to maintain this reputation it is vital that we tackle the abuse of the student route - where too many institutions sold immigration not education."
Helen Higson, deputy vice chancellor at Aston University, said the UK's image had been harmed by "fake colleges".
"If you go to certain streets in Birmingham you can see where they have been or where they are, and they're giving us all a bad name," she said.
Former home secretary Jacqui Smith presents What's Wrong With Immigration at 09:00 GMT on Saturday, 16 March on BBC Radio WM 95.6 FM