West Midlands Police tweetathon 'cuts emergency calls'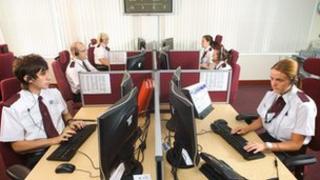 A social media campaign to cut the number of inappropriate 999 has been a success, according to West Midlands Police.
The force launched a 24-hour tweetathon on 1 February, publishing details online of the calls staff were taking.
It said many of the 999 calls should not have been made, delaying responses to genuine emergencies.
Since the campaign, the force said it had seen the number of 999 calls fall by an average of about 500 a day.
'Huge success'
Staff at the emergency call centre were now taking an average of about 1,300 calls a day, police said.
At the same time it said calls to the non-emergency 101 number had more than doubled to about 4,500 a day.
Ch Insp Sally Holmes said: "It will be interesting to see how the figures remain a few months down the line, but for now the tweetathon proved a huge success."
As part of the 24-hour campaign West Midlands Police also revealed some of the stranger calls staff had taken in recent months, including a woman dialling 999 to ask for help after forgetting the password to her laptop.