Birmingham 'youth oriented' online TV channel launched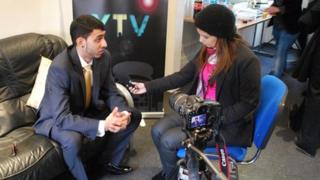 An online TV channel run by young people has been launched in Birmingham.
YouthTelevision (YTV) said it will show "youth-oriented programming" via its website, phone apps and on YouTube.
The programmes will be produced by a team of volunteers aged between 13 and 25 who come from inner city areas across the West Midlands.
YTV has been set up using a grant from the British Council's Active Citizens programme and was formally launched by Lord Jones of Birmingham.
During a 12-month pilot, Chadwick Jackson from Edgbaston helped produce a short film about a Bollywood version of Shakespeare's Much Ado About Nothing.
'Very diverse'
The 20-year-old said he had been volunteering at the mac arts centre in Birmingham when he found out about the project based in Highgate Square.
Mr Jackson said: "I came here and loved the atmosphere of the place.
"I loved the colours and the vibrancy and you meet some very articulate young people.
"I was given the opportunity to make short films and help out at the office.
"I'm not working but I'll never call myself unemployed because I find it's demotivating. I just say I'm not in paid work yet.
"YTV is very diverse. You get your cool, calm and collected people and you get crazy people."
'Misrepresented youth'
Humayun Alam got involved with the TV channel after working on another Ulfah Arts project, Radio Youthology.
The online radio station is having a temporary hiatus allowing Mr Alam to focus on YTV.
He said: "We like to think we can engage with the youth and we can put them on a platform where we can train them and show off their skills and maybe give them a bit of confidence in life.
"I think YTV is another form of news, with real news regarding stuff that's happening on their streets and in their homes.
"BBC and ITV are respected organisations but sometimes the news they show may not relate to how younger people feel.
"They feel misrepresented so this is where I believe YTV comes in.
"We believe we can give youth a platform where they can air their voices."