Terrorism trial puts focus on Sparkhill and Sparkbrook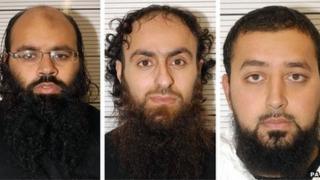 Three men who hoped to become suicide bombers and launch a massive campaign of violence across the UK have been found guilty of terrorism charges.
Irfan Naseer, Irfan Khalid and Ashik Ali, all from Birmingham, face life sentences for plans to detonate up to eight bombs.
This latest terrorist case once again focuses attention on Birmingham, with those caught up in this plot living in the Sparkbrook and Sparkhill districts of the city.
West Midlands Police say that outside of London the biggest threat from al-Qaeda inspired terrorism comes from this area.
Along with the close-knit communities, small hard-working businesses and street madrasas sometimes no bigger than corner shops, the area has double the national unemployment figures.
About half of the children here live below the poverty line.
The area is a stronghold of the hard-line Deobandi Islamic sect, which began as a movement against British imperialism in India - the modern-day Taliban are Deobandis.
Another strand is Kashmiri activism, the politics and violence associated with that disputed region often reflected back to Birmingham where many people from Kashmir settled.
Jahan Mahmood, who runs educational programmes for young Muslims aimed at tackling radicalisation and gang culture, knew one of the plotters, Irfan Kahlid.
He said the government and police have "failed at engaging with the Muslim community in Birmingham".
"They have no experience of talking to Muslims at their level. The feeling in these communities is that they're not being listened to by the authorities," he said.
He believes the official anti-extremism programme in Birmingham called Prevent has failed.
"It's outreach programme is a poisoned chalice, Muslims don't want to be seen talking to Prevent workers of any kind," he said.
'Labelled as terrorists'
But Assistant Chief Constable Marcus Beale, from West Midlands Police, said the Muslim community was actively working with them to deal with the threat of terrorism.
"If you take the particular trial you just had, then community evidence wasn't part of the chain that was presented to the jury but they were very helpful while we were doing the searches," he said.
"Since then, dialogue has been really positive around how can we all work collectively to ensure that today's 10 year olds aren't tomorrow's suspects in terrorism trials."
At Beechwood School in Sparkhill there are a number of students who were born in Britain but their parents come from Pakistan and Afghanistan.
They said they feel positive about their place as British Muslims and feel that this country does provide opportunities for them and their friends.
The teenagers are fearful however that the publicity surrounding the case will once again label their area as a terrorist breeding ground.
One 16-year-old student said: "It makes me feel angry because not every British Asian Muslim is a terrorist.
"But because of the actions of these people, that's what people are going to label us as.
"They were planning to kill people at the end of the day - in Muslim society you should not kill anyone."