Birmingham Chinese centre welcomes new year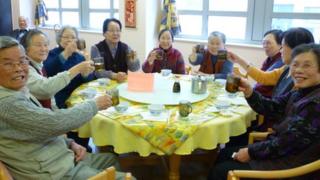 Shin Yam Chan, 76, celebrated Chinese New Year at a Birmingham sheltered housing complex with a difference.
Cherish House - one of only a handful of housing schemes in England specifically for Chinese elders - marked the occasion by hosting a special dinner for about 80 people.
Ms Chan, a Hong Kong-born mother-of-five, first came to the UK in 1980 and became a resident at this site near Chinatown, Birmingham, 12 years ago.
Speaking in Cantonese, she said: "It's like a family. The staff working here treat us like their own parents.
"I love it here because, apart from the language support [from staff], it has all of the things I need.
"To see a doctor there is a system where we can get help and the staff have all treated me very nicely."
Dozens of people pay about £200 a week to live in one-bedroom flats spanning five floors at the complex near the city centre.
During the day, the residents come together for exercise classes, lunches, arts and crafts sessions, as well as Chinese card games and English, Mandarin and cookery classes.
The majority are over 70-years old, with many born in China or Hong Kong, while the oldest is a 98-year-old man.
Father-of-three Ma Fok Wong, 81, who first came to England in 1958, worked as a waiter in Chinese restaurants in several towns and cities.
He moved to Cherish House three years ago from Hinckley in Leicestershire because he wanted to be in a large city and live among Chinese people.
'Quite extravagant'
Mr Wong said: "I love playing mahjong, [it's a bit like dominoes], because it's not just the game itself. You can have a little conversation with other people... joking, that sort of thing.
"There's no gambling. It's just the banter and the social aspect of it."
The centre, which includes a hairdressing facility and traditional Chinese decorations in the lounge, opened in 1997 in Bradford Street, Digbeth.
The dinner followed the official Birmingham celebrations at the weekend, when thousands of people turned out in Chinatown to sample street food and restaurant cuisine and see traditional dragon dances and fireworks.
The operators, Trident Reach the People Charity, said Monday's noon dinner was a "quite extravagant traditional feast" of eight dishes.
Older people services leader at the charity Elaine Tang said residents "like eating" so it puts on "a lot of events where food is involved".
She said: "[We have a] cookery class where we do traditional Chinese snacks and cakes and biscuits.
"It's very important to the residents here that we maintain these cultural traditions, so we ask them for their opinions, what they would like us to put on for them."
Ms Tang added that a lot of elderly residents "speak very minimal English" and need help from the multilingual staff.
"Day-to-day tasks which we might find simple such as reading a letter and being able to pay a bill, being able to pick up a phone and make an appointment, these are the day-to-day things they will struggle with," she said.
"I think for them to be living here it gives them a sense of security and also the sense of community."
As for welcoming the Year of the Snake, Ms Tang said: "Snakes tend to like to think a lot and have a very calming nature and when the time is right, it's about them going out and getting what they want... - an achiever."