Protest to save Erdington NHS walk-in centre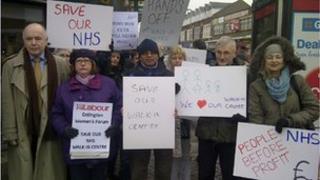 About 100 people have held a protest against the planned closure of a health centre in Birmingham.
The future of Erdington walk-in centre is being looked at by Birmingham and Solihull NHS as part of a review into all walk-in centres in the city.
It said a decision would be made on all their futures later in the year.
Chair of the Erdington Patient and User Group Keith Heron said: "This centre is extremely well used, it should be expanding not closing."
Mr Heron said figures showed more than 3,500 people had used the centre in the past three months.
He said: "If it closed, people would end up going to Good Hope Hospital or Heartlands which is too far away and inaccessible for older people in Erdington who need to use public transport."
More than 500 people have also signed a petition to save the centre in Erdington high street.
In a statement Birmingham and Solihull NHS cluster said it understood people's concerns but it was conducting a wide review of urgent care services.
It said: "This is part of a much wider review focusing on access, patient experience and equity, we are not looking at walk-in centres in isolation."
"Over the coming months, we will be carrying out public engagement on urgent care services and we hope that as many people as possible will take advantage of this opportunity to get involved."