Edward R Fox sketchbook found in charity shop is displayed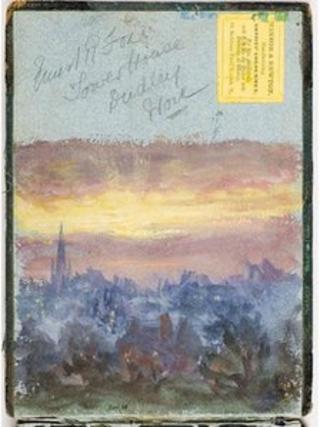 A sketchbook of work by a 19th Century artist which was found in a charity shop has gone on display in a West Midlands museum.
Dudley museum and art gallery is exhibiting the book and three watercolour pictures by Ernest R Fox, who used to live in the town.
The items were donated to a charity shop in Kent, where workers spotted the artist's address on the book's cover.
They got in touch with Dudley museum to see if they wanted to display it.
The museum, which already has two oil paintings by Fox in its collection, said although the pictures in the book do not have titles they are clearly views of Dudley and the surrounding area.
'Quite a coup'
The view of Dudley Top Church appears a number of times and a sketch of Castle Mill Basin looking towards Tipton is of particular significance, the museum said.
All the pictures in the sketchbook are dated between 1880 and 1884.
Tracy Wood, from Dudley Metropolitan Borough Council said: "Most of his output is related to Kent and Cornwall, so to have discovered this collection of paintings of Dudley is quite a coup.
"The paintings are beautiful in their own right but make a valuable addition to our collection."
"They expand what we know of Fox's artistic output and these pictures help us understand more about what our town looked like 100 years ago."
Ernest R Fox was born in Dorchester, Dorset, in about 1860 and lived at the Tower House in Dudley between 1880 and 1884.
He went on to live in Kent, Cornwall and Dover but it is not known when he died.