Birmingham to host 2014 Conservative Party conference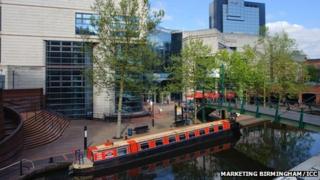 Birmingham is to host the Conservative Party's autumn conference next year.
The ICC event, which could see up to 14,000 delegates, will be the Tories' fourth visit to the city since 2008.
Marketing Birmingham, which is funded by the public and private sectors, said the conference was secured with support from the city's major events fund.
The council said it may not host political conferences in future as it aims to attract events in areas the city is also targeting for investment.
Council leader Sir Albert Bore said political conferences "have been an important part of the city's events calendar for some time".
He added: "Looking beyond 2014, we are aiming to attract events in sectors the city is also targeting for investment.
"These events will bring industry leaders and decision makers to Birmingham, creating opportunities for us to showcase the city's offer as a business destination.
"Aligning our events and inward investment strategies in this way may mean that we do not host political conferences as we look to maximise investment opportunities with a range of events."