Birmingham children's service has 431 long-term sick leave staff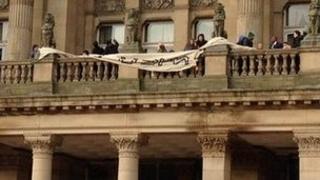 A total of 431 children's services staff at Birmingham City Council were on long-term sick leave last year, it has been revealed.
The figures, unveiled at a scrutiny committee meeting, mean 5.5% of 7,780 children and family service staff were absent for 14 weeks or more in 2012.
The council said it was "determined to reduce levels of staff sickness" and the figure was falling annually.
The department has been under a notice to improve since 2009.
In that year, Birmingham's Social Services was served with an improvement notice following several child deaths, including the case of seven-year-old Khyra Ishaq, who starved to death.
Cuts protest
The council is reported to be employing more than 100 agency social workers to plug the gaps caused by the sick leave.
This comes at a time when the council said it needed to find savings of at least £110m in its 2013-14 budget. Proposed cuts sparked a protest at the council offices on Monday.
The Labour-run council said long-term absences had affected the whole of its children and family services directorate.
"Some areas of the council's work, such as front-line social work, will create greater stresses and demands and will inevitably have a higher than average sickness rate," a spokeswoman said.
"However, we know long-term sickness needs addressing and we have plans in place, including human resources personnel routinely attending service area team meetings to discuss complex and long-term cases with managers."