Protesters against cuts occupy Birmingham Council House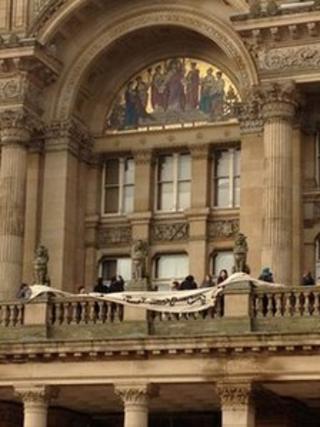 Anti-cuts protesters occupied a balcony at Birmingham Council House earlier.
About 20 people from the Birmingham Against the Cuts group unfurled banners as councillors prepared to discuss budget proposals for the year.
The council has said it needs to make savings of at least £110m in its 2013-14 budget.
The protest group said dozens of other people later joined them to take part in a demonstration outside the Council House while the debate took place.
'Worse than feared'
Earlier, a Birmingham City Council spokesperson addressed the protesters on the balcony: "We respect your right to protest and to express your views but would ask you to do so peacefully.
"Hopefully, we have given you opportunity to voice your opinions and ask questions of the cabinet through a series of public meetings and via social media.
"We have been open and honest about the difficult budget decisions we are facing, but the challenge is much worse than we feared and the spending reductions we face were made in London not in Birmingham."
A final decision about the 2013-14 budget will be made by a meeting of the full council on 26 February.
In a statement on their blog, the protesters said they had decided to take the action "because the current system cannot go on".
"It is undemocratic and unfair. We need alternatives and are calling on the city to join with us and to seek another path.
"We all know that austerity is not only cruel and wrong, but that it is also not working."