Dudley Council Conservative group leader Les Jones steps down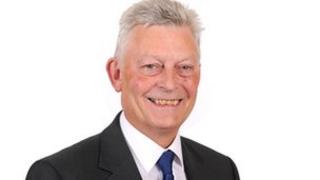 A Dudley councillor has stepped down as leader of the Conservative group.
Les Jones said he had taken the decision because the party was struggling to do its job effectively as an opposition.
Dudley Council is controlled by Labour, which extended its majority this week by claiming a seat from the Conservatives in a by-election.
Despite stepping down as leader of the party group Mr Jones said he would continue to work as a councillor.
"There had been a suggestion that I had taken my eye off the ball and I found that too much of my time was being taken up dealing with internal party matters, rather than holding the council to account.
"I felt we weren't doing our job as an opposition as well as we should. I thought it [stepping down] was the right thing to do.
"I've no axe to grind with the party or fellow councillors, but the conditions were such that I couldn't do my job properly."