Protests by union after staff sacked at Halesowen College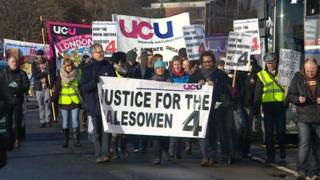 Dozens of people marched through Halesowen over the sacking of four lecturers at the town's college.
University and College Union (UCU) claimed there had not been a problem with the four lecturers' competencies.
They said the staff lost their jobs because their students had not achieved high enough standards.
Halesowen College said it had dismissed four staff "relating to failure to carry out the fundamental part of the role of lecturer".
The protest was taking place during an open day at the college.
West Midlands Police said about 30 people had marched through the town on Saturday morning although protesters said there were upwards of 100 people there.
'Arbitrary dismissal'
In a statement the college said: "All staff, including some who are members of UCU, will be working on Saturday so this protest will comprise of people not employed by the college."
UCU head of further education, Barry Lovejoy, said: "At a time when colleges and universities are piling on the pressure, through increased workloads and performance management, the arbitrary and improper dismissal of teaching staff for the underachievement of students sets a worrying precedent.
"Halesowen College seems determined to pick fights with us at every turn.
"While it sacks union members and threatens others, its standing within educational circuits continues to plummet. It is difficult not to see this as an attack on trade union members, rather than anything that resembles fairness."