Safety advice 'stops' squat fires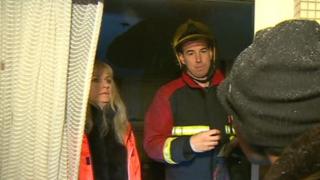 A fire safety project for homeless people in Birmingham has stopped accidental fatal fires in squats and abandoned buildings since its introduction two years ago, the fire service says.
With the number of homeless people rising in the West Midlands, charity SIFA Fireside has been working with firefighters to educate people while fitting smoke alarms in squats.
Once they have visited the various squats and buildings, information about where homeless people are sleeping is passed to fire crews, giving them a vital "heads up" if a fire does start, which is more likely as the wintry conditions continue.
The project was prompted by the deaths of two Eastern Europeans in a fire in an empty building in the city in early 2010.
Carole Fox, operations manager from SIFA Fireside, who has been working with the homeless for 20 years, said it "spurred" her on to think what could be done.
'Speak for themselves'
The charity's drop-in centre is based in Digbeth and the connections she has made within the homeless community has helped her reach out to them and introduce the fire service.
She goes out with firefighter Ian Sturmey who fits alarms and gives advice.
He said: "Before we started doing this work... I can think of at least three to five fatalities in that community.
"Since we've been doing the work... we've had zero fire fatalities - I think the figures speak for themselves."
Ms Fox said they go out and check the buildings after they have done "soup runs" - visiting soup kitchens "to see who is in".
"Just by looking around I can identify who is around or not around."
The charity is seeing a rise in the number of homeless people using their centre and believes the homeless are using more and more abandoned buildings around the city.
"About 18 months ago, we saw 60-80 a day at the centre, now 80-100 is normal and occasionally we've seen 140-145," Ms Fox said.
"It's crept up significantly. It's hard to know how many buildings they use in the city.
"We go to the usual spots or try new places we've heard about but the number is increasing."
Latest government figures show that for the first two quarters of 2012 there were 2,950 homeless people in the region, compared to 2,720 for the same period in 2011.
Mr Sturmey said he has recently started collating figures about the number of fires involving homeless people in the city.
"There have still been fires, but no-one has died," Ms Fox said.
'Help us'
Teenager Brian, who lives in the toilets of an abandoned warehouse, said he is now more careful about fire safety.
"I do light candles but I blow them out and I keep them away from the blankets and and all rubbish I put into bags and chuck it in the morning.
"When you're wet, it's hard to keep stuff dry. If any socks get wet I ring them out and put them between my layers then your body dries them out."
After the deaths of the two men in 2010, the homeless Polish community decided to speak to police to help identify the victims which was a "turning point" Ms Fox said.
"We got the Polish guys to speak to the police, which is very rare as there is very little trust of the authorities in the homeless community.
"They were really upset and we said: 'Help us?' and they did. It really turned a corner for us and they trusted me."
"The rough sleepers talk to Ian now so he has a much better idea of where they are and he contacts the fire station in the patch to tell the crews that if there's a fire, to treat the buildings as occupied so they have a heads up.
"We're not funded, this is me getting one on me and going after it."
An Inside Out West Midlands report on how West Midlands Fire Service and SIFA Fireside is working together to help Birmingham's homeless community will be featured on BBC One on Monday, 28 January at 19:30 GMT. It will be available nationwide on the iPlayer for seven days thereafter.