Weather affects West Midlands bin collections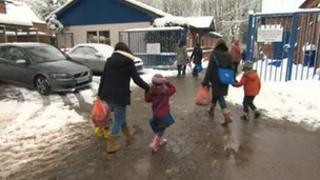 Bin collections in parts of the West Midlands have been suspended after more snow fell in the region.
Collections in Solihull and Dudley were affected.
More than 40 West Midlands schools have been shut or partially closed after a fresh layer of snow fell overnight.
The Met Office said a little light snow was possible on Wednesday evening and night, but for most it would remain dry throughout, with temperatures falling to a minimum of -7C (19F).
'Slipping around'
Many places had 2cm, about an inch, of snow overnight on Tuesday.
Solihull Council said bin collections were suspended for the third consecutive day on Wednesday "due to the severe winter weather and poor conditions of side roads".
Speaking in Olton, Solihull, BBC WM 95.6 reporter James Bovill said: "I've seen lots of schoolchildren slipping around on their way into school this morning.
"But all of the A and B roads, the main routes around here, even some smaller roads, are coping well."
Dog owners have been warned to take care near frozen water by the fire service after they had to rescue a Siberian husky.
West Midlands Fire Service said they were called to help the dog which had fallen into a frozen pond in Dudley at 09:30 GMT.
A specialist water support team, based at Perry Barr, helped rescue the dog, called Leo.
His owner, Kelly Warren, said: "One minute Leo had been playing with another dog, the next all we could see was his head and two front paws surrounded by ice."
Dudley Metropolitan Borough Council suspended black bin and recycling collections for Wednesday.
Commenting on the weather, a hairdresser in Bournville, Mel Cravino, said: "I don't see this every day. I've come a long way from home, all the way from Australia.
"My parents are sitting in 45 degrees back home so I'm out here dancing in the snow. It's quite nice."
Nearly 20 schools have been shut or partially closed in Birmingham, where more than 50 were closed on Tuesday.
Kings Norton Primary School in Birmingham opened, but with a "staggered start to allow staff to get in due to the conditions", BBC Midlands Today's Peter Wilson said.
Speaking from the area, he said: "Main roads are passable. Side roads have continued to be dangerous. Pavements have iced up and it's continued to snow."