Grit salt bins are targeted by thieves in Walsall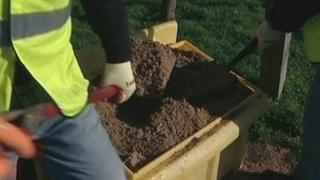 Salt from grit bins in Walsall is being stolen and then used for paid driveway clearance.
Residents in Bloxwich North have reported seeing people aged about 18 to 20 stealing grit and then offering to clear icy driveways for a fee.
Several homes were approached in the Stoney Lane and Ambergate Close areas on Monday.
Walsall Council said it costs £100 to fill each grit bin, which are installed close to hills and sharp bends.
Councillor Tom Ansell said: "It amazes me that people will take this opportunity to make a few bob."