Keanu Williams: Grandfather saw 'bruises and bites'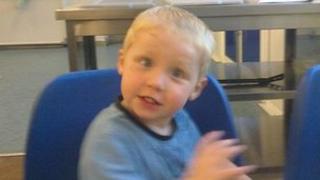 A man has said he saw bruises and bite marks on the body of his two-year-old grandson in the days before his death.
Birmingham Crown Court heard Richard Lampett was worried after seeing a bruises on Keanu Williams' stomach.
The toddler died in January 2011 after being found with head and chest injuries in Ward End, Birmingham.
His mother Rebecca Shuttleworth, 24, of Cottingham Road, Manchester, and Luke Southerton, 31, of Hagley Road, Birmingham, deny murdering Keanu.
The pair also deny causing or allowing the death of a child and a charge of cruelty to a child aged under 16.
Ms Shuttleworth denies a separate child cruelty charge against a different child.
'A bit excessive'
The court heard that Mr Lampett had recently had a stroke and had to give his evidence to the court from his hospital bed via a video link.
He told the jury that his daughter, Ms Shuttleworth, had told him: "Keanu was at the biting stage and she had said to other children to bite him back if he bites."
He said that in the days before his death, he had seen a bite mark on Keanu's arm.
When he questioned Ms Shuttleworth about the mark, she told him Luke Southerton had bitten the boy.
Mr Lampett said: "When I said that is a bit excessive, she told me he didn't mean to bite him back that hard."
The court also heard that Mr Lampett took photographs of bruising to Keanu's face in December 2009.
He said he took the pictures to "have a record".
The trial is expected to last three months.