West Midlands drivers delayed due to weather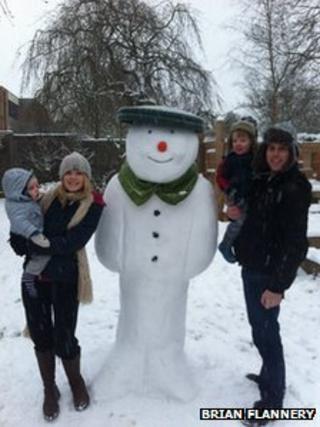 Drivers have faced long delays as freezing temperatures and ice caused disruption in the West Midlands.
Traffic was backed up for about two miles in the morning rush hour in Birmingham as the A38(M) Aston Expressway was shut by ice.
It was temporarily closed in both directions as gritting took place, but reopened at 08:55 GMT.
Drivers called BBC WM warning of icy conditions in Harborne and Smethwick and on the Black Country Route.
About 90 schools in the West Midlands are shut or partially closed, including 53 in Birmingham, 14 in Dudley and 18 in Walsall.
Salt from grit bins has been stolen and offered to people to clear their driveways, Walsall Council said.
It said residents in Bloxwich North had reported seeing people stealing grit and offering to clear driveways for a fee, with several homes approached in the Stoney Lane and Ambergate Close areas on Monday.
Amey, the company which looks after gritting in Birmingham, said there had been a fall in temperatures on the A38(M).
But the firm said that it had gritted on Monday night to a level "which would have covered any incoming snow or any ice forming normally".
'Nightmare' journey
Duty manager at Amey, John Keaney, said: "It looks like we've had a quick drop in temperature early morning.
"You do get occasions [where] icy winds come across - you get a flash freeze on roads that are higher than normal."
Simon Patel, a father of two boys aged six and four, lives near three schools in Walsall and said the footpaths were similar compared to their condition on Monday.
Mr Patel, 36, said: "The roads are quite clear, but it's the footpaths that are terrible for the parents taking the kids to school.
"It was slippery - I've seen a few people who've had a few accidents out walking over the last few days and today walking to school."
BBC Midlands Today's Nick Watson said the journey in from Bromsgrove, Worcestershire, was "a nightmare".
He said: "I got to Longbridge by car but the traffic was gridlocked so I got out and caught the train, which was also delayed.
"Lots of other people had obviously had the same idea so the carriages were jam-packed with people and further up the line towards New Street people couldn't get on at all because there was no room.
"A journey which normally would take 45 minutes took me an hour and three-quarters."
Network Rail said there were "no significant weather-related delays in the West Midlands".
A spokesman added that an equipment fault in the University of Birmingham area, which had affected some services, was not related to the weather.
'Lethal out there'
Baverstock School and Specialist Sports College in Druids Heath, Birmingham, was one of the schools closed on Tuesday.
Head teacher Thomas Marshall said temperatures had fallen to about -6C on Monday night.
He said: "It's just all turned to ice. It is lethal out there.
"None of the roads around the school have been gritted at all and we are on a hill."
Bob Yeomans, Walsall branch secretary of the National Association of Head Teachers, said: "You can't win in this sort of scenario, because if a school closes, parents rightly or wrongly complain.
"If a school stays open, certainly in my case when we stayed open, I also had parents complain."
A Met Office yellow warning is still in place with temperatures not expected to get above freezing.