Tipton man not guilty of ex-partner's murder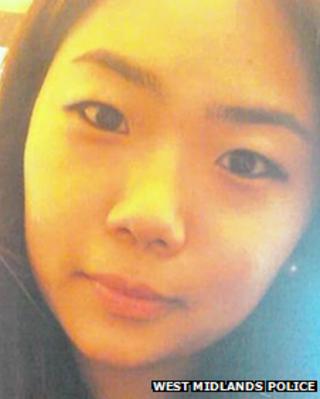 A man has been cleared of the murder of his South Korean ex-girlfriend who was found strangled at his flat but will be sentenced for her manslaughter.
Student Da In Lee, 22, was found at the flat in Grace Road, Tipton, West Midlands, on 9 April. Her body was left wrapped in bed clothes, police said.
Daniel Jones, 27, pleaded guilty to manslaughter during the two-week trial at Wolverhampton Crown Court.
Jones was remanded in custody on Friday and will be sentenced on 14 February.
Ms Lee was studying international relations and sociology at Aston University.
'Confessed to killing'
Her father Kwan Foo Lee and mother Eun Suk released a statement following the trial.
The statement read: "We would like to express our gratitude to... the prosecution team and all the brave witnesses for giving evidence at court.
"We would especially like to thank all the staff at Aston University for all their help and support when we came to England for our daughter's funeral.
"Our family has been ripped apart by the tragic events of last Easter and we have been too emotionally ill to travel to England for the trial.
"Knowing the person responsible has pleaded guilty to manslaughter offers us small comfort.
"We would like Da In to be remembered as a kind, gentle, intelligent and loving daughter."
Det Sgt Harry May, who investigated Miss Lee's death, said: "Miss Lee had been in a relationship with Daniel Jones.
"The jury have heard that the relationship turned nasty and Jones started to use mental and physical abuse towards her.
"She broke off the relationship; however on the fatal Easter weekend of 2012 there seems to have been an attempt at reconciliation.
"Sadly, it quickly and violently all went wrong and by the Sunday evening Da In Lee was dead.
"Jones killed her at his flat in Tipton. He then fled the scene and morbidly went to Da In's flat in Birmingham where he spent the night.
"The following day Jones went to Bristol to see his ex-partner and their one-year-old daughter. It was his intention to then flee the country to America.
"To their shock and horror he confessed to the killing of his ex-partner and other members of her family.
"Then as soon as he left they telephoned and alerted the police."