Birmingham 'top for hyperlocal online news sites'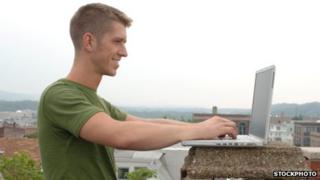 Birmingham has more hyperlocal news websites than any other council area, according to new research.
Lecturer Dave Harte, from Birmingham City University, has published the findings as the use of social media surges because of widespread snow disruption.
His report shows Birmingham has 28 hyperlocal sites, which is more than any other council area in the UK.
Birmingham blogger Sas Taylor said: "The snow brings everyone together to share information."
'Grass-roots way'
Her website, B31 Voices, which covers the B31 postcode area of the city, received its highest ever number of hits on Sunday while the site's hashtag #B31Snowwatch gathered 2,588 Twitter followers in just eight days.
Mr Harte added: "It came into its own on Friday with Sas and Marty juggling getting their own kids ready for school whilst tweeting (2,464 followers) and facebooking (2,324 likes) school closure updates."
He defines hyperlocal news sites as "online local news or content pertaining to a town, village or single postcode area".
So is travel information the main reason people use hyperlocal websites?
Blogger Jon Bounds said: "Birmingham started at the forefront of blogging because the council was so bad at communicating. That's not so much the case now, but people are still blogging in a grass-roots way and no one's trying to make money out of it.
"Maybe because Brummies are down-to-earth people, or maybe they're just sensible enough to know there's not a lot of money to be made."
Dan Slee, from Walsall Council, said: "My focus as a local government press officer is how councils can get the information out in a timely and effective way so that they can be read, shared, talked about and discussed by a whole range of people."
Will Perrin, from Talk About Local, a national organisation promoting hyperlocal sites, added: "Birmingham has a fabulous digital culture of people using quite straightforward technology to express themselves.
"It's not [economical] for big media companies to cover areas so locally, they'd never be able to do it, so hyperlocal sites are a very good thing."
Clive Edwards, editor of monthly local Castle Vale paper The Tyburn Mail, said: "We don't have the technology, staff or status of large news organisations. We can deal with issues that larger organisations filter out but they have the integrity and professionalism; they are better journalists."
His blog also received record visits in the snow on Sunday, with 2700 hits.
Mr Harte's research took place during a sample period of 11 days in May 2012. He found news items were published at an average rate of 15 per hour and 366 per day on hyperlocal sites across the UK. London was the best-served city, but no single council area had more hyperlocal websites than Birmingham.
Also noted in the research as standing out were Stoke-on-Trent with seven hyperlocal websites followed by Walsall and Solihull with four and three sites respectively.
The findings will be discussed at a Digital City News Day run by Birmingham's Digital Media Businesses Cluster and the BBC in Birmingham on Tuesday.