Knives End Lives campaign tackles serious stabbings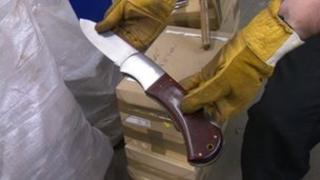 A new campaign aimed at cutting knife crime has been launched by the police.
West Midlands Police hope the Knives End Lives campaign will raise awareness of the consequences of carrying a knife.
A trauma consultant in Birmingham said the campaign is coinciding with a recent surge in serious stabbings.
Vibhore Gupta, a consultant at the Queen Elizabeth Hospital in Birmingham, said medical teams are seeing two serious knife cases every week.
Staff at the hospital recently had to deal with three knife-related fatalities involving young people, including a 16-year-old who died after been stabbed in the groin, he said.
Serious charges
West Midlands Police say that knife crime has fallen over the last four years but in recent months there has been a spate of serious cases involving knives.
The force has begun a campaign which is targeting young people and focuses on the serious consequences of carrying a knife and being in the company of someone armed with a blade.
Under a legal doctrine called joint enterprise, prosecutors have the power to bring before the courts people who were present when a crime was committed, so that they all face the same serious charges.
Det Ch Insp Simon Wallis said: "I think the key thing is you don't have to have your hand on the knife to have blood on your hands."
England and Wales saw some 30,000 offences involving knives between 2011-12, down 9% on the previous 12 months.