West Midlands snow: 4x4 drivers help nurses make calls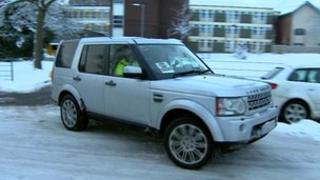 A fleet of volunteer 4x4 drivers have been driving community nurses through the snow to see their patients.
Aimie Lawrence, a district nurse in Birmingham said: "I don't think we'd have been able to get to see many of our patients without them."
The group, which was formed three years ago, has made around 140 trips since Friday.
More than 500 schools were closed in the West Midlands due to freezing temperatures and snow.
The closures include more than 300 schools in the Birmingham area and all schools in the Solihull Council area.
Birmingham Airport has been affected, with a dozen departures and nine arrivals cancelled earlier.
Some flights to and from Paris and Amsterdam and a flight to Frankfurt have been cancelled, while other flights have been delayed.
Solihull Council said all bin collections were suspended on Monday due to the weather.
London Midland trains said it was running a normal service, although five services have been altered due to weather conditions.
Earlier, National Express said all of its coaches were running, although there were some delays.
Rough sleepers
The Ring and Ride charity in the West Midlands said it had problems reaching customers.
Operations manager Des Rogers said: "Since Friday we've not been able to help people who need shopping and they'll be running out soon.
"As most of our customers have mobility problems, we have to get to the front door and we can't get to the front door. But they'll be our priority today."
The Salvation Army's William Booth Centre for rough sleepers in Shadwell Street, Birmingham, had 13 people staying overnight.
The Met Office said ice would become widespread on untreated surfaces overnight into Tuesday.
West Midlands Ambulance Service warned it could take "a little longer than normal" responding to 999 calls.
Spokesman Steve Parry said: "We try to get to emergency cases in eight minutes. That's our target time.
"But clearly with conditions ranging from ice [to] snow, and the rural areas we cover, we're going to take a little bit more time in some cases."
Mr Parry said the service had been "exceptionally busy" over the weekend, with a 17% increase in calls in the Birmingham area on Sunday.