Birmingham councillors dispute need for wheelie bins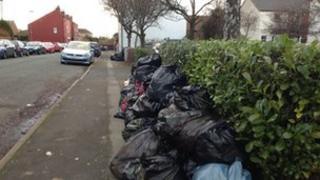 Conservative councillors in Birmingham have said the introduction of wheelie bins is unnecessary and accused the ruling Labour party of misleading people in the city.
A public consultation has been launched into changes to waste collections.
Birmingham City Council was awarded £30m by the government in November to preserve weekly collections.
Councillor James Mackay said wheelie bins were always part of the bid and would protect cuts to other services.
The Labour cabinet member, responsible for waste services, said the funding was ring-fenced and had "to be spent on what the government gave us the money for".
"If we didn't accept that money, there's no way we could preserve weekly collections," he said.
Rat attacks
Conservative councillor for Edgbaston Deidre Alden said the government funding was intended to preserve or reintroduce weekly collections and wheelie bins were never a precondition.
She said the previous administration had planned to bid for a food recycling collection, which would have also protected weekly collections.
Ms Alden said removing food waste from black bin bags would also protect them from being attacked by rats and cats.
There have been ongoing reports from local people of vermin ripping open bin bags, which wheelie bin are also designed to protect against.
The local authority said a pilot scheme to introduce wheelie bins, common in many other parts of the country, was due to be introduced in the spring, before being later rolled out to the city's almost 450,000 homes.
Some people who have objected to the plans said they did not have room for the bins and that they would limit the amount of rubbish they could dispose of.