Birmingham and Black Country alcohol restrictions 'cut crime'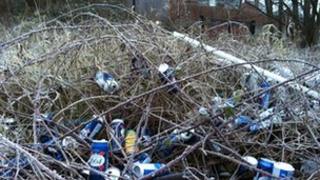 Alcohol-free zones across Birmingham and the Black Country are working, according to West Midlands Police.
Drink-related crime has fallen across the force area over the last four years, while police and Birmingham City Council are targeting a further 10% drop by 2016.
Chris Neville, head of licensing at the local authority, said almost 80% of the city was now covered by an order.
Earlier this month seven extra areas of Birmingham became restricted areas.
It means police have the power to confiscate alcohol from people on streets in the Hodge Hill, Yardley, Hall Green, Longbridge, Weoley Castle areas, as well as parts of Aston and Handsworth Wood.
Police said people failing to comply with an officer's instruction to stop drinking in a public place could be issued a penalty notice or even arrested, with a prosecution carrying a maximum fine of £500.
Several town centres in the Black Country are also Alcohol Restricted Areas.
'Positive effects'
Sgt Steve Gordon, deputy in charge of Stourbridge neighbourhood policing, said: "We've seen incidents of anti-social behaviour and acts of criminal violence fall.
"Statistically it has reduced the number of incidents and therefore the number of calls made to police. The overall effects have been incredibly positive."
The latest area to apply for a restriction is Quarry Bank in Dudley.
Brian Genner, chairman of the Friends of Quarry Bank, said the area had traditionally had a "village" feel, but had seen a rise in violence and anti-social behaviour in the last four to five years.
He said he hoped the move would also reduce litter, with hundreds of cans and bottles regularly found on derelict land next to the high street.
People in the area are currently being consulted over the plans, which could be introduced within the next two months.