Monarch starts Birmingham Airport hangar construction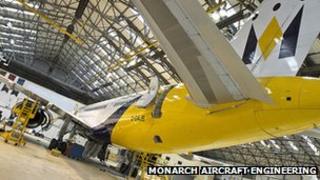 Work has started on a new maintenance centre at Birmingham Airport which is expected to create up to 300 new jobs.
Monarch Aircraft Engineering said the new hangar would be able to repair not just its own fleet, but other aircraft.
About 150 jobs are expected to be created when it opens at the end of 2013, with the possibility of a further 150 jobs later, the company said.
Monarch Airlines has recently expanded its number of flights from Birmingham.
Chief Executive of Birmingham Airport Paul Kehoe said the decision to build the facility demonstrated a long-term commitment in the region and its engineers.
Monarch also operate maintenance facilities at London Gatwick, Luton, and Manchester airports.
Birmingham's 110,000 sq ft (10,200 sq m) hangar is expected to be able to house large passenger jets such as the Boeing 787 Dreamliner, or up to 10 narrow-body aircraft.
Work is also currently under way on a £40m runway extension at Birmingham Airport.