Russells Hall hospital baby death caused by staff mistakes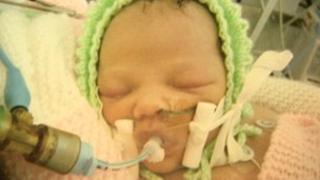 A West Midlands hospital has admitted that midwives' mistakes contributed to the death of a baby girl.
The trust for Russells Hall hospital in Dudley has apologised to the parents of three-day-old Brook Greenfield for the events that led to her death.
Lawyers representing Brook's parents found midwives failed to correctly monitor her heart rate or call a doctor when no heart beat could be found.
Her mother Gemma Peters, 26, said she was "so angry about what happened".
She added: "I had a healthy pregnancy and for everything to go so badly wrong at the end has been difficult to cope with."
Ms Peters and her partner Liam Greenfield, 30, from Dudley, instructed lawyers to prevent other parents going through a similar experience.
They had arrived at the Russells Hall hospital on 11 July 2011. Ms Peters was in agony as her baby's head became stuck for more than an hour-and-a-half.
"I was so scared because I instinctively knew something wasn't right," she said.
"At one point the midwife admitted to me that she couldn't find the baby's heartbeat any more but just passed it off, saying it was probably because my pelvic bone was blocking the sound of the heartbeat."
'Unnecessary tragedy'
When Brook was delivered, Ms Peters noticed she was not breathing and the umbilical cord was around her neck.
She said it was only after she had told the midwives that Brook was taken away for resuscitation and then transferred to the neonatal unit.
It was found she had suffered irreversible brain damage and the couple had to make the decision to switch off her life support three days later.
Ms Peters said: "This was my first labour and, like most first time mums, I put my complete trust in the midwives who I thought knew best."
"Their mistakes led to us being robbed of our beautiful baby girl and although the hospital has apologised, nothing can turn back the clock."
Jenna Harris, from lawyers Irwin Mitchell, said: "Although the trust has now admitted liability they need to now reassure patients.
"[They need to show] that the problems identified have been acted upon and that the midwives concerned have been retrained so that no other parents suffer such unnecessary tragedy."
Paula Clark from the Dudley Group NHS Trust, which represents the hospital, said they offered "the most sincere condolences" to the couple for their loss.
She said: "Safety is always our top priority and we offer our heartfelt apologies that the care provided in this case fell below the high standard we provide each day for our patients.
"A thorough investigation was carried out and lessons have been learned and appropriate actions taken to help ensure that a tragic incident such as this does not happen again in the future."