Birmingham CAB office 'may have to shut'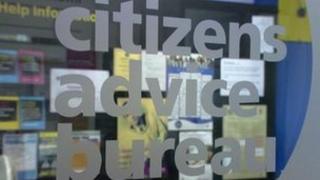 Officials at Birmingham's Citizens Advice Bureaus have said they could be forced to close another office.
In October the charity, which has a shortfall of £120,000 through legal aid and council cuts, warned it may have to close two of its four offices.
It said the situation had got worse leading to three possible closures.
Citizens Advice chief executive Yvonne Davies said she was currently in a "positive dialogue" with the city council about funding.
However, she said the charity needed more donations from businesses and individuals to survive.
'Financial pressures'
Citizens Advice, which has been running in Birmingham since 1939, is estimated to help more than 50,000 people each year with financial, legal and social advice.
It closed one branch in the city in 2011 but retains bureaus in the city centre, Kingstanding, Northfield and Tyseley.
Ms Davies said: "We're running four bureaus at a loss and have reserves we can dip into for the short-term but we have to find new forms of funding or face closures and job cuts."
She said that over the past year the charity had collected more than £20,000 through fundraising, compared to £3,000 the previous year. It has also be awarded a £45,000 grant from the Henry Smith Trust.
However, Ms Davies said that was still not enough.
She said: "Not enough people realise we are a charity. If I can persuade 10,000 people in Birmingham to donate £10 a month then we don't have a problem any more."
A Birmingham City Council spokesperson said: "The council is facing significant financial pressures as a result of national budget reductions; in 2013/14 alone the council needs to find over £110m in cuts, and by 2016/17 this figure will total over £625m.
"Despite the severity of the challenge facing the council we are committed to working with the third sector and acknowledge the important role it plays in the city, and we continue to work with the Citizens Advice Bureau in delivery of advice services in Birmingham."
A decision on funding from the council is expected in February.