Wolverhampton Portas pilot scheme deadline extended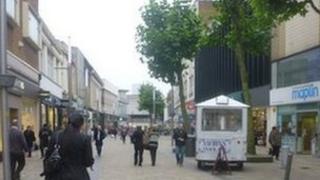 The deadline for people to apply for a share of a £100,000 project in Wolverhampton city centre has been extended until the end of the month.
Three people will be given a rent-free store for six months as part of a government project headed by retail expert Mary Portas.
Nicholas Pitt, chair of the Portas Pilot group, said so far they have only had about 20 applications.
He said the scheme is a "fantastic career opportunity".
Mr Pitt said: "The applications we've had are good but we just feel that maybe people need a little more time - the application process is quite in-depth."
April start-up
He said extending the deadline gives them the chance to attract a "good cross-section" of people and that help is available filling in the application form.
The Portas Pilot scheme was set-up after the retail advisor led a review for the government on regenerating town centres.
Twelve towns received £100,000 in the first phase of the project.
Mr Pitt said the scheme is aimed at people who have an idea for a business they have always wanted to start up, or someone who is already running a business from their sitting room.
The plan is to have the three new businesses in place in Wolverhampton city centre by 1 April.