Birmingham stabbings: Stab victims were Big Issue sellers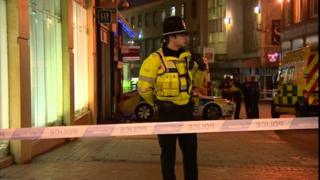 The two men stabbed to death in front of shoppers in Birmingham city centre were Big Issue sellers, the publication has confirmed.
Officers said hundreds of people may have witnessed the stabbings in Union Street at about 17:50 GMT on Friday.
The first man was stabbed outside Sainsbury's and the second was found slumped outside Boots side entrance.
Minutes later, a 23-year-old man was arrested in New Street near to Odeon cinema. He remains in custody.
Post-mortem examinations on the two men, aged in their 30s, were due to take place. Their identities have not been officially released.
'Absolutely devastated'
Union Street, which was closed on Friday night, has now reopened but some areas of the street and part of New Street remain cordoned off for forensic investigations to continue.
Big Issue founder and editor-in-chief John Bird said everyone at the magazine was "absolutely devastated" to hear of the men's deaths.
He said: "We are struggling to make any sense of this utterly senseless attack and our sincerest condolences go out to the families of the victims.
"This awful crime, perpetrated against two hard-working, mild-mannered men, only serves to illustrate the extreme vulnerability of people who live and work on the streets, which is why we at the Big Issue are constantly striving to create opportunities which will help our vendors to get off the streets and out of harm's way.
"We are truly devastated that these two individuals have been deprived of just such a future."
Police urged anyone who saw the stabbings - or the attacker fleeing the scene - to contact them.
A woman, who runs a stall near the Sainsbury's store and did not want to be named, said: "If it's who I think it is they've been around here for a while.
"They were homeless and two lovely men. One of them had a dog called Scooby who I used to bring titbits for. I can't believe they're both dead."
'Exceptionally rare'
Ambulance crews said police officers and members of the public had been helping give the stabbed men first aid when they arrived.
However, both went into cardiac arrest and died at the scene.
Supt Richard Moore, of West Midlands Police, said: "We can't assume anything at the moment, these are the very early stages of a major crime investigation.
"We will put all of our investigation resources into looking at the incident. What we can't do is jump to conclusions.
"It is a dreadful incident, but thankfully dreadful incidents like this are exceptionally rare."
West Midlands Police said extra police patrols would be out in the city centre over the weekend to reassure members of the public.