Council will not rescue Birmingham Law Centre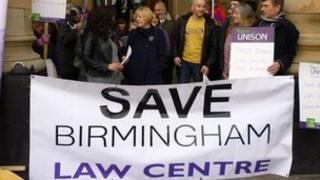 Birmingham Law Centre will not be given financial assistance from the city council, despite risk of closure.
A support group gathered today while a full meeting of Birmingham City Council heard leader Sir Albert Bore confirm no funds would be made available.
Pete Lowen, chief executive of the law centre, said: "This is the worst crisis we've faced. We need a cash injection to see us through until April."
It is the only community law centre in the city and offers free legal advice.
Supporters included Jamil Sanneh, who said: "They helped me from being destitute and homeless, they're doing a really good job. It would be crazy if they closed."
Michael Bates, legal advisor at the centre, explained their role: "We differ from no-win, no-fee firms in that we're not ambulance chasers.
"We work to get people housed, supported or given the right care package.
"Unfortunately with how services work that sometimes means we have to go to court."
Mr Lowen said: "Birmingham City Council has never funded us. We are one of the only law centres in the country not to receive any local authority funding."
Cllr Bore has offered to meet Mr Lowen on Friday to offer suggestions of other potential funding sources.