Birmingham taxi stabbing: Man admits murdering partner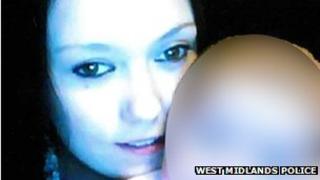 A man has admitted murdering his partner as she tried to escape from a Birmingham taxi.
Natasha Trevis, 22, of Weoley Castle, died at the scene in Northfield on 7 August after being stabbed 26 times during a row over an abortion.
Junior Saleem Oakes, 28, of Dimsdale Road, Northfield, was jailed for life by a Birmingham Crown Court judge and must serve at least 22 years.
Miss Trevis and Oakes had two young daughters and a baby son.
The attack took place five days after a social worker let slip Miss Trevis had aborted a fourth child.
'Savage attack'
Oakes stabbed her in the head, face, neck, chest, back and legs as she tried to get away, the court heard.
The taxi driver and other members of the public witnessed the attack.
While on remand Oakes was reported to have said he "killed his missus because she had killed one of their kids", the court heard.
Judge William Davis QC told Oakes: "I described the attack as savage because you inflicted 26 separate wounds with a knife - many of them required severe force, and many of them were inflicted from behind.
"This young woman was either turning her back on you or trying to escape.
"She did escape from the taxi but you chased her and continued the attack even as she tried desperately to save herself."
'He's stabbing me'
Prosecutor David Matthew said the murder was committed on the morning of Oakes's 28th birthday.
Mr Matthew said the taxi had been called to take Miss Trevis to her mother's home, but Oakes joined her hoping to get a lift to a different address.
According to eyewitness evidence from the taxi driver, Oakes launched his attack after becoming abusive and refusing to get out of the car.
Quoting the driver's statement, the prosecutor told the court that Oakes had claimed that Miss Trevis was a "disgrace" for aborting his child.
The driver then heard Miss Trevis screaming and shouting, "He's stabbing me, he's stabbing me".
The driver took off his seatbelt and saw Miss Trevis being chased outside the vehicle and stabbed again.
Learning difficulties
Mr Matthew said social services were involved with the couple and Oakes was no longer residing at the family home by the time of the murder.
The judge said Miss Trevis was "a good young mother" to her children aged three, two and one.
He said: "All of [your children] will grow up knowing that their father killed their mother."
Oakes, who has learning difficulties and is illiterate, has a record of domestic violence.
Defence counsel Timothy Raggatt QC said Oakes had a history of drug and alcohol abuse.
He said it was doubtful whether the offence was premeditated.
'Beautiful and caring'
Speaking after the case, Det Con Michelle Ohren of West Midlands Police said Miss Trevis was a "loving and devoted mother", had everything to live for and was very close to her family.
In a statement issued by police, Natasha's mother, Joanne Hewitt, said: "Tasha was my diamond, the star of my life.
"She was beautiful, caring and loved her three children with all her heart.
"When he killed her, he killed me. He has taken a very precious person from our family and broken us in two."
A spokeswoman for Birmingham City Council social services said: "We do not comment on individual cases."