Khyra Ishaq family to sue Birmingham City Council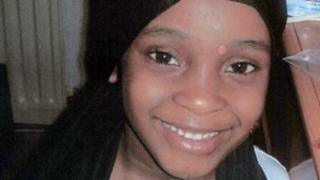 The family of a girl who was starved to death are to sue Birmingham City Council, claiming the local authority failed to protect her and her siblings.
Khyra Ishaq, seven, died in 2008 after being starved at her home in Handsworth area of the city.
Her mother Angela Gordon, 35, and ex-partner Junaid Abuhamza, 31, were jailed in 2010 for her manslaughter.
Birmingham City Council said it would be inappropriate to comment at this stage on the family's claims.
Anthony Collins Solicitors said the family had submitted a claim against the local authority, alleging it owed a duty of care to the children and that "the negligence of Birmingham City Council's social services and its refusal to act played a key part in the longevity of the abuse".
Tony Hall, partner at the firm, said the council had until the end of January to admit or deny the allegations, before the case was lodged with the court.
'Missed opportunities'
The claim alleges social workers should have removed the six children from the family home before Khyra's death.
A serious case review published in July 2010 said Khyra's death could have been prevented, while Birmingham social workers and other local agencies had "missed opportunities" to save her.
The report identified a severe lack of communication between her school, social workers and other agencies dating back to March 2006, after teachers raised concerns about Khyra's wellbeing.
She weighed just 2st 9lb (16.5kg) when she was found at her home.
She was confirmed dead at Birmingham Children's Hospital, with the cause of death given as a chest infection.
The review also highlighted the abuse of Khyra's five brothers and sisters.
During their trial in March 2010, Gordon and Abuhamza admitted child cruelty charges relating to Khyra's siblings.
Birmingham Crown Court heard the house was well stocked with food, but it had been withheld from the children.
Jurors were also told two of Khyra's siblings had been suffering from dangerous levels of malnutrition when they were rescued, to such an extent they could not cope with normal food.