Firefighters tackle West Bromwich textiles unit blaze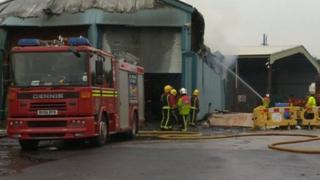 Some 75 firefighters have been tackling a blaze at an industrial property in the West Midlands.
Fire crews were called to BCR Global Textiles recycling unit on Greets Green Road, West Bromwich, at 01:52 GMT.
A fire service spokesman said most of the property had been damaged by hundreds of tonnes of burning material.
The cause of the fire is not yet known and a scaled-down presence was expected at the site for some time as damping down continued.
Station Commander Jason Campbell said: "At its height there was approximately 80% of the building involved in fire.
'Roof collapse'
"It's full of textiles because they operate a recycled clothing business from here. We had an inward roof collapse.
"It was unsafe for us to put firefighters inside so we then moved to an external attack and used the aerial platform to apply water from a safe position outside.
"Obviously, being a flammable material, they burn quite readily so we were getting quite a high energy and heat output from that fire that led to the collapse.
"Ultimately the building's going to have to be pulled apart so we can get in to put out any remaining hotspots."
Greets Green Road has re-opened after being closed at the height of the blaze.