Birmingham and Black Country A&E units see 'huge increases'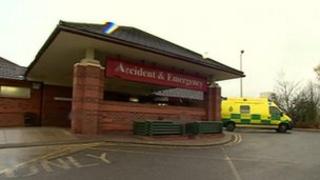 Accident & Emergency units in Birmingham and the Black Country are under extreme pressure, according to the area's hospitals.
Heartlands Hospital said it had seen a 12% rise in the last week and was now treating about 350 people a day at A&E.
Dr Gavin Ralston, head of Birmingham Clinical Commissioning Group (CCG) said units were being slowed down by people with non-emergency illnesses.
Dr Trivedy Chetan said improving access to other services would help A&Es.
A registrar at Heartlands A&E, Dr Trivedy said: "If you've got a cough and cold at 2am, you might not be able to see your GP."
He said the treatment of people with genuine emergencies was being affected by those with little more than the common cold coming to emergency units.
He said: "We see everybody, we don't turn people away. But it's not just the doctor's time, it's the nursing team who have to do the observations.
"So the whole process could be slowed down by people coming here and some people who call an ambulance [who do not need to]."
Recent outbreaks
Heartlands Hospital said it had been forced to allocate extra beds to deal with the influx of patients.
There is a similar picture at other hospitals in the region, with the Queen Elizabeth Hospital reporting an 18% increase at its A&E in the last week, while Wolverhampton's New Cross hospital said the figure had risen by 17%.
Despite an increase in emergency admissions throughout the year, Dr Ralston said the situation had been made worse by recent outbreaks of flu and norovirus.
James Morris, Conservative MP for Halesowen and Rowley Regis, said new minor injury walk-in centres, such as one planned for Old Hill town centre, would take the pressure off A&Es.
He said it was up to the NHS to make sure there was access to "the right care in the right place" and urged commissioners to use drop-in centres alongside main "hub" hospital, such as the new Sandwell super hospital.