Malala Yousafzai to have cranial surgery in Birmingham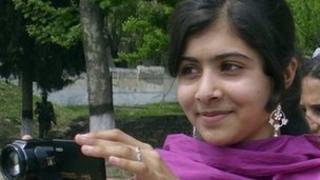 A Pakistani girl shot in the head by the Taliban will undergo reconstructive surgery in the next month.
Malala Yousafzai, 15, is being treated at Birmingham's Queen Elizabeth Hospital (QEHB) after being transferred after the attack in October.
She will have cranial reconstruction surgery in late January or early February, the hospital's trust said.
Medical director Dr Dave Rosser said: "Malala has continued to make great progress in her treatment."
The Taliban has said it shot Malala, a campaigner for girls' education, for "promoting secularism".
Doctors said the bullet grazed the teenager's brain when it struck her just above her left eye in the incident in the Swat Valley.
Dr Rosser, of University Hospitals Birmingham NHS Foundation Trust, said: "A number of QEHB's multi-specialist doctors have been working alongside colleagues from Birmingham Children's Hospital to treat her.
"The medical team has included clinicians from neurosurgery, imaging, trauma and therapies."
Malala's father Ziaududdin Yousafzai has been given a job at the Consulate of Pakistan in Birmingham.
He has been appointed education attache at the Consulate of Pakistan in the city for at the least three years, the Pakistan government said on Wednesday.